Two years ago, I started working on being fit. I had gotten out of shape after years of being both broke and depressed. A routine checkup showing a higher than normal blood pressure finally convinced me to turn things around.
To tell you the truth, 80% of what got me into shape was a change to a higher-protein diet. And if I only focused on getting more sleep, I'd be in a much better shape than I am right now.
But of course, tasteless chicken breasts and sleep is boring. You can't copy it in the hopes of adding it to your Instagram. So let's talk about the last 20%: my exercise regimen.
After doing a bit of research, I found that I couldn't fit in gym with my schedule. I work early shift so early morning gym would mean going there at 3-4AM, and post-work gym would mean that once I finish working out at 5 or 6PM, I'd get stuck in traffic rather than have a relatively quick 45 minute one-way commute had I gone home at 3 or 4.
The traffic constraint lead me to my main exercise routine: Urban Hiking. It's what I call going from BGC all the way to my house 7.5km away. I don't want to call it "running"; while I typically run 4-5km of the route, the hills, varied running paths, and the cars make it very hard to run all the way, especially for a person like me who has no interest in being a runner.
The lessons I learned from being an urban hiker will be in another blog post. For now, let's go with something more interesting: my workout gear.
After 2 years of half-assed training, I determined the best combination of equipment for me: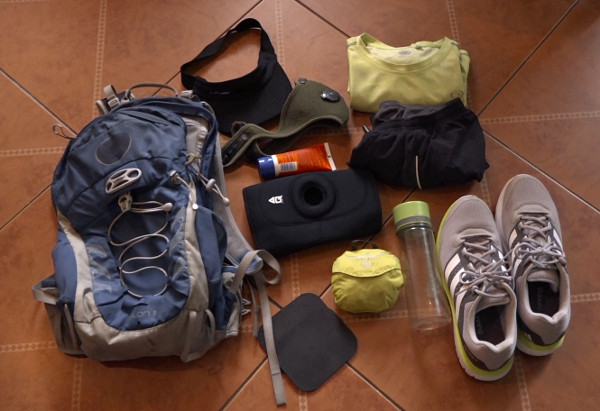 Osprey Talon 11 v1 – The key to my afternoon hikes. Without this trail running pack, I'd be limited to just walking home. Sure, I can just leave my clothes in the office and run unencumbered like everybody else, but I'm too lazy to shuttle extra clothes on non-running day.
Finding trail running bags can be hard, but thankfully R.O.X. sells Osprey bags and they're just a couple of blocks away from my office.
Halo Sport Visor – I sweat a lot. My initial attempts at running had me stopping multiple times to wipe my forehead and eyes clear of sweat. A headband would solve this problem, but this isn't the 80's so I went with a "visor" that's actually more of a headband than a visor. At this point, the sweat channels have peeled off (the logo is peeling off too) but it's still functional as a headband and a visor.
Respro Ultralight Mask – it's a running mask. I'll be writing a more in-depth review on it in the future.
Random cheap dri-fit – for a long time, I was content with just using whatever t-shirt I was wearing for work. Eventually, having a damp sticky back became too annoying and I decided to just get a couple of cheap dri-fit shirts at a nearby running goods store.
Random dri-fit pants – same as shirt, but the pants came from multiple places e.g. Runnr, Under Armor, etc.
Sunscreen – I'm already dark skinned and I'm not under the sun for that long so sunscreen's a mixed bag: on one hand, it's kinda annoying to apply and attracts dirt; on the other hand, less chance of getting skin cancer.
Knee support – I rarely use this, but I have it ready for the moments that I feel anything funny on either of my knees. Better safe than sorry.
Generic 500ml water bottle – initially, I thought I needed 1L of water because I was sweating too much. Turns out, that is too much and I can't run with a lot of water in my stomach. 500ml is ok, and recently I've been adding a bit of salt and sugar in the water (because electrolytes).
Running Shoes – no, these aren't my running shoes. I didn't show them here because I haven't used them long enough to properly review them. But having running shoes is a given.
Grip Power Pads – my "warm up" consists of me doing sets of pull-ups and chin-ups at Track 30th. While it doesn't feel right to complain about a free public exercise area, I have to say that the pull-up bars are pretty bad: they're uneven and thin making exercises more painful than usual.
After a year and a half of tolerating the pain (and getting some cool callouses in the process), I finally gave up and bought some cheap pads while I shipped something from Amazon. With this I can finally do some straight bar dips.
Osprey Hi-Visibility Raincover – one of the downsides of carrying a bag while running is that I can't run when it's raining; I have to get my umbrella out and walk the rest of the way. Osprey has rain covers but R.O.X. doesn't sell them locally so I had to import this one via Amazon and Johnny Air Cargo.
It works well, and I even got some personal bests running in the rain (apparently overheating is my main weakness even though I sweat a lot). Heavier rain will still seep into the bag, but it's not a problem since the bag itself is water resistant.
Not pictured is my vivosmart HR fitness band. In my hikes, I mainly use the heart rate monitor to guide me to the (in)correct heart rate zone of 160-180 for anaerobic fun (the correct heart rate for running is 130-150). The step counter and sleep tracker are automatic so I don't really use (i.e. activate) them, and they provide useful stats. Apart from that, I don't treat this device as any more than a watch, though having an extra buzzer for early morning alarms and call notifications is also appreciated.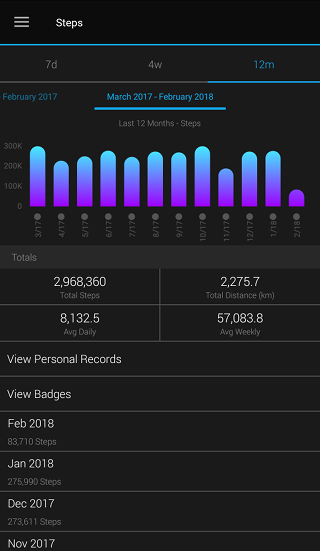 Here are some stuff that isn't my gear anymore:
Hand towel – for sweat. Didn't have to use it as much once I got a headband/visor so I stopped bringing it.
Shades – turned out too annoying to wear, not to mention that the pair I got somehow made things look weird or distorted like a pair of incorrect prescription glasses. Wearing a visor is more than enough to block out most of the sunlight anyway.
Earphones – some people think running without music is too boring. Some people need tunes to pump them up and encourage them to go the extra mile.

Some people aren't running in busy roads with stretches of non-existent sidewalk and the occasional counter-flow bikes coming in from behind.
And there's my loadout. As mentioned above, had I focused on my sleep patterns last year, I might have lost more fat and gained a lot more muscle. However, I'm still very happy with my progress overall as my legs are a lot sleeker than they used to and that 5km walks are practically nothing to me right now.