Last week, a tweet from @webgeekph got me thinking about the current state of local "tach" scene: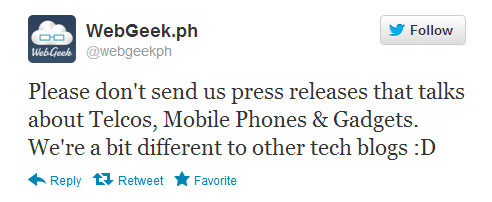 Looking at the top local technology blogs, you'll see that almost all of them are geared towards Consumers i.e. they do previews and reviews of products, press releases, and events that showcase products. This is not unexpected, when you write about things that people want to buy, your visitor count will be pretty high.
Unfortunately, we are not a nation of rich people. Focusing too much on consuming other countries' products will not help us in the long run.
That said, we need to focus more on the Producers: the developers, designers, and business people. We need more coding and design-related blogs. We need sites and events that showcase the works of local talents. We need more groups like DevCon and WebGeek that promote and empower local developers. We need more events like Startup Weekend and Hack2Hatch to kickstart establishing a more dynamic local tech industry.
I'm just as excited as you when it comes to the latest games and gadgets, but until we shift some focus from Consumers to Producers, that mentality will only lead our country to lag further behind our neighbors.