Last night was supposed to be just an informal meeting; last month's low attendance made us move from the "1-3 speakers" scheme to a "10 minute show and tell" programme. But people just kept arriving and everything went better than expected.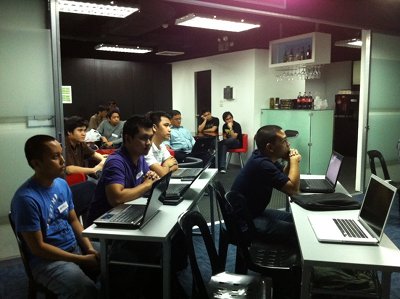 And yeah, some guys from Pivotal Labs also showed up and participated in the talks.
The Pivotal guys went with some people from MOL/Friendster. The former were contracted to do some stuff for the latter, but I didn't ask if they're rewriting the social networking site in Ruby. (I was too busy eating pizza to eavesdrop) That's them in the pic above, with Winston presenting in the front.
Anyway, here's a list of the talks last night:
Thanks to Exist for sponsoring the venue, Topher for taking pictures, and Topher again (and Rad?) for the food.
For updates on future Ruby meetups, join our Google group.