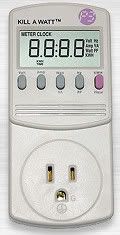 Hardware enthusiasts know that Kill-A-Watt is the device to use for checking power consumption. A lot of people/sites use this device, from blogger Jeff Atwood to hardware site HardOCP.
Unfortunately for us here living in the Philippines, Kill-A-Watt is out of the question. Not only is it difficult to import electronic devices without paying hefty customs fees, one should also take note that there are no Kill-A-Watt models which support 220V yet. (No, don't tell me the obvious solution with a 220 to 110 transformer and a 110 to 220 transformer. Just… don't.)
Just when I thought there was no other way to determine the power consumption of my computer aside from buying a bulky submeter, I stumbled upon a thread in TipidPC.com where a guy suggested an alternative to Kill-A-Watt.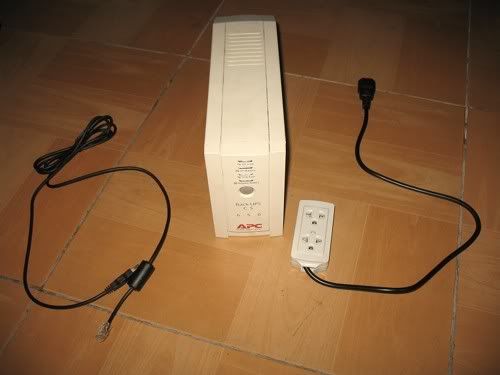 Find a "smart" APC UPS and find a way to connect all of your devices to it.
You will need a "smart" UPS (not necessarily a SMART-UPS) because the cheaper APC UPS models like the BACK-UPS ES line are "dumb" UPSs. That is, the latter are simply battery backups and are not designed to communicate with your computer. In contrast, "smart" UPSs can communicate with your computer via USB or serial cable. With the proper software, the UPS can automatically shutdown your PC when its power reserves go down to a certain level.
The cheapest "smart" UPS available in our region is the BK350EI. Unfortunately, I couldn't find a store which carries that model so I think I could safely say that the BK500EI is the cheapest one available in the metro. As seen in the picture above, I'm personally using the BK650-AS which is essentially the same as the BK500EI (because of their 400W limit) except for the 30% increase in power storage. The cable on the left connects the UPS to my computer via USB.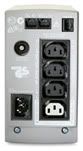 The next part, namely, "find a way to connect all of your devices" to the UPS might look trivial at first glance. That is, until you look at the back of your UPS — The outlets provided are all C13 connectors preventing you from using a normal power strip.
This problem can be solved by a little elbow grease. As you could see in the picture above, I bought a cheap C14 to C13 connector at a computer surplus shop then rigged the C14 connector to a power strip block which you could buy from any hardware store. With this custom "adapter", I could connect a 5-6 outlet power strip to the UPS and have my devices connect to the power strip.
With those two problems out of the way, it's only a matter of connecting everything to the power strip and installing the PowerChute software bundled with the UPS.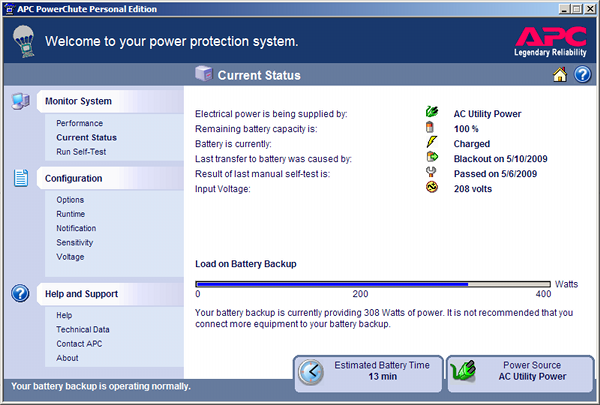 Shown above is the power usage of two PCs with Cool'n'Quiet/SpeedStep enabled and two 22″ LCD monitors. Note that the UPS reports the power usage as percentage of maximum power load (which is 400W) so it's only accurate to 4 watts.
Linux users can use apcupsd if the UPS is supported. Ubuntu users can install it via
sudo apt-get install apcupsd