I find it odd that I failed to mention the relationship between Finance and Fitness in last night's update of About This Site. It's odd in the sense that these two seemingly unrelated categories share the same basic principles.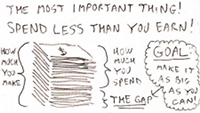 The most basic principle for personal finance is Spend Less, Earn More. For physical fitness, it's Eat Less, Exercise More.
The similarities don't stop there. Both basic principles are simple yet difficult to apply in real life. This often results in people getting into get-rich-quick scams (for finance) or trying out fad diets (for fitness) in the hopes of skipping the hard parts. However, time and time again, these two principles are often the only reliable means for people to reach their goals in personal finance and physical fitness.
Speaking about goals, both categories also require you to define realistic goals. Not only does this prevent you from the inevitable disappointment you fail to reach your goal, this also forces you to assess your situation and your target. Maybe your situation is more dire than you expected, or maybe you really don't need to worry about your situation; either way, finding your starting point and your goal in both personal finance and physical fitness will allow you to determine the correct steps needed to get you where you need to go.
Even on the micro-level, there are still similarities between the two categories. Logging of all expenses and calorie counting are both very tedious tasks and yet they are among the most reliable ways for you to determine where you can trim off excess expenses/calories. Heck, these two tasks are so similar that you could probably log your calorie intake in a personal expenses logging software and vice-versa!
Another similarity is the importance of changing the way you think. You should change your perception about yourself by taking reality into account e.g. ignore how the media portrays "fitness", you really don't need to buy that gadget no matter how shiny it looks, etc. You should also understand that being both fit and financially stable requires a long term change in your lifestyle and not just a temporary one.
Of course, there are differences between fitness and finance, but my goal for this post is just to relate the two. You can't blame me for not pointing the differences out. :P
(picture source: The Simple Dollar)