As much as I'd like to go back to talking about management and software engineering (to scare away the people who stumbled upon my site because of the incoming links), DDB "damage control" people decided to submit their entire freaking FAQ as comments to two of my posts.
Now that gives me a good reason to continue talking about their site while bridging the gap between this issue and software engineering. :D
—
Practically the main reason why people are skeptical about the Ako Mismo website is its lack of usability.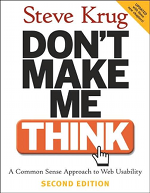 Now, when we talk about usability, the first reference book that would come into mind for many web developers is Steve Krug's Don't Make Me Think. The book covers the main issues on usability faced by websites and does this by being clear and non-technical and by using pretty pictures. In other words, the book's a perfect for people interested in improving their site's usability but would be intimidated by Jakob Nielsen's useit.com or Edward Tufte's books.
As with most decent software engineering or web design books, you probably won't find this book in local stores. A former colleague told me that Fully Booked carries this book sometimes though I haven't verified it myself. You could try making a special order from local bookstores for it but that would lead us back to the book blockade thingy. =/
Fortunately, there are free chapters of the book available on the net. One of those chapters is available in the Adobe Design Center: Usability as common courtesy.
Usability is about building clarity into Web sites: making sure that users can understand what it is they're looking at — and how to use it — without undue effort. Is it clear to people? Do they "get it"?

But there's another important component to web usability: doing the right thing — being considerate of the user. Besides "Is my site clear?" you also need to be asking, "Does my site behave like a mensch?"
Steve Krug starts the chapter with a story about how, after being concerned that a union strike will affect his flight, he visited an airline's web site to find more information about the strike. Long story short, the web site did not contain any relevant information about the issue on hand and this frustrated him.
He then introduces the concept of a "reservoir of goodwill" to explain how it turned out that way. In the concept, he tells us that everyone has a reservoir of goodwill when we visit websites. When we find what we are looking for or anything similarly interesting, that reservoir fills up. Similarly, when we don't find what we are looking for or if we see something that disgusts us, the goodwill level goes down. If for some reason that reservoir becomes empty in the course of our visit, we leave that site in disgust/frustration.
—
Back to Ako Mismo, the reservoir of goodwill easily explains why people reacted that way to the Ako Mismo site.
A lot of people entered the site with a high amount of goodwill in their reservoirs. A good number of them left when they couldn't find any information about the dog tags.
Others' reservoirs didn't last that long. A part of the article actually gives the exact same reason why:
Sometimes a single mistake can empty it. For instance, just opening up a registration form with tons of fields may be enough to cause some people's reserve to plunge instantly to zero.

—
As we can see from these examples, usability may be an often overlooked aspect of a website, but it can spell the difference between a successful sale and a lynch mob.
Unfortunately, usability is not my area of expertise so I couldn't provide you with a comprehensive list of usability links. All I have is a link to another chapter of Don't Make Me Think and the aforementioned useit.com site.